The South Carolina Department of Social Services has seen a significant drop in abuse reports for both children and vulnerable adults during the COVID-19 pandemic, and state officials believe victims may be isolated from those who might otherwise help them.
The decline began in March, when schools nationwide closed and social distancing measures began. DSS data shows child abuse investigation services cut nearly in half from February to April, and vulnerable adult investigation services dropped by about a third during that period.
This trend is not exclusive to South Carolina. The Washington Post reported in April that child abuse reports plummeted nationwide as COVID-19 shelter-in-place orders took place.
The Centers for Disease Control and Prevention notes that public health measures, like working from home and avoiding gatherings, help prevent the spread of COVID-19 but may heighten the risk of abuse due to isolation and other factors.
Child abuse
Typically, child abuse reports drop during the summer months as schools close. School closures in March meant that drop occurred months earlier than usual, according to the DSS, and the numbers remained lower than the last two years over the summer.
Michael Leach, DSS state director, said the department is extremely concerned about the effects the pandemic has had on the safety of children.
"We rely heavily on the consistent eyes and ears of teachers and school officials as mandated reporters as defined by South Carolina law and the community at large to help us protect the children they see daily. Without those eyes and ears, we are missing an important tool in securing children's safety," Leach said in an email.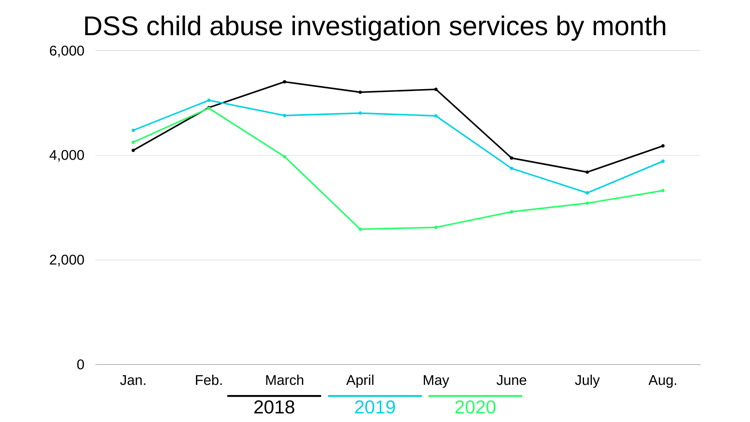 Even during the summer, when numbers are usually low, 2020's abuse reports still lagged behind those of the last two years, according to the DSS Investigation Services data. 2018 and 2019 both had their lowest points in July with 3,678 and 3,281 investigations respectively, and July 2020 saw 3,084.
"It is difficult to predict if this trend will continue as the reporting data does appear to fluctuate. However, we do know that the more eyes on a child, the greater the chance of identifying possible abuse/neglect," Leach said in an email.
Susan Meehan, executive director of the Child Advocacy Center of Aiken County, said many families have been doing their best to cope with the pandemic but are under increased stress due to loss of income, food insecurity, staying home with children all day, a lack of social support and general fear of the virus.
"All of these stressors can take an emotional toll and create the perfect storm for potential child abuse," Meehan said in an email, citing an informational sheet from the DSS and the Children's Law Center at the University of South Carolina.
According to the sheet, there are several child protection risks that have been observed during COVID-19 or previous disease outbreaks.
These include physical and emotional maltreatment, gender-based violence, mental health and psychosocial distress, unaccompanied and separated children, child labor and social exclusion.
"As quarantine restrictions have lifted, we have seen an increase in the number of referrals to our agency," Meehan said in an email. "Generally, the summer is slower because kids are home. But now that school is starting, we expect to have a higher than normal spike in the number of child abuse referrals."
The Children's Law Center released a flyer to help mandated reporters recognize child abuse and neglect in virtual settings. The center recommends having routine check-ins and conversation points with students, such as asking how a student is feeling today, what the best and hardest parts of a student's day have been, and how much exercise and sleep a student is getting.
According to the Children's Law Center, some of the signs a child might be unsafe include illicit drugs, drug paraphernalia or other safety hazards in the home, yelling or screaming, unexplained injuries and difference in behavior, attendance issues and when attempts to contact a parent or guardian go unanswered.
Vulnerable adult abuse
The DSS defines a vulnerable adult as "a person 18 years of age or older who has a physical or mental condition which prevents them from providing for his or her own care or protection." This includes people with impairments from brain damage, advanced age and physical, mental or emotional dysfunction.
Kelly Cordell, adult advocacy director for the DSS, said the hot summer months usually come with a rise in reports for abuse and neglect of vulnerable adults in South Carolina. But this year, reporting has remained lower than the last two years after the drop in March.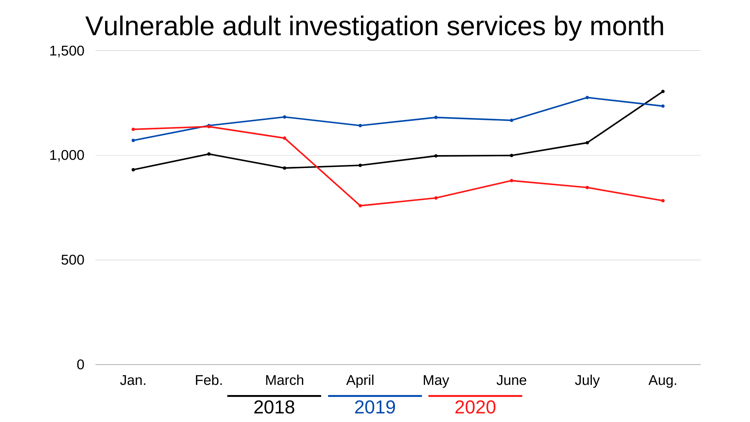 "We believe the case numbers have decreased because potential victims have been isolated from potential reporters during this pandemic," Cordell said in an email.
According to the DSS, the department had more than 2,000 open cases during any given week for abuse and neglect of vulnerable adults. But between the week of March 16 and Aug. 24, the cases decreased by more than a quarter to 1,483.
Cordell said measures to limit interpersonal contact during COVID-19 have increased the risk of abuse in the vulnerable adult population, noting that social isolation is a known risk factor for experiencing abuse.
As friends and caregivers cannot visit and provide care in person, the opportunity to detect ongoing elder abuse is limited, Cordell said.
Aiken County
The Cumbee Center to Assist Abused Persons serves Aiken, Allendale, Barnwell, Edgefield, McCormick and Saluda counties. The organization provides free services to abuse survivors, including a 24-hour hotline and other resources.
In July, Jessica Coach, executive director of the Cumbee Center, said the center initially received fewer calls when the pandemic began affecting the area. However, a few weeks passed, and calls were back to normal.
The main difference at the Cumbee Center was the switch to virtual operations.
"We worked remotely for about two and a half months. We maintained all of our operations, so we didn't cease any of our services," Coach said. "We continued to provide shelter, counseling, case management, support groups, for the most part everything was done virtually."
Domestic violence is complex, Coach explained. Families staying home more as resources diminish can cause increased stress, which can raise the risk of abuse.
Coach said the local community has always been supportive of the Cumbee Center, including this year as the center faced unplanned expenses related to the pandemic.
"Our work is extremely important, and domestic violence and sexual violence is very prevalent in the communities that we serve, and our staff have been very instrumental in making sure that all of our services continue, and that ... we're here for every single person that needs us," Coach said.
The Cumbee Center's 24-hour hotline is 803-649-0480.
The COVID-19 pandemic also affected operations at the Child Advocacy Center of Aiken County. CAC has made adjustments, like social distancing and wearing face masks, as well as conducting teletherapy for most children besides those who are too young, Meehan said.
Financially, Meehan said she is concerned about funding for the rest of this year, including whether CAC will be able to host its annual fundraiser in February.
"We have already begun to see the ripple effects of the government and state shutdown. Economic uncertainty has caused a reduction in contributions this year," Meehan said in an email, adding that individual and corporate donations make up nearly half of CAC's budget.
Still, CAC has continued to provide services. Meehan said the center initially slowed down to only conducting emergency forensic interviews but has otherwise been operational since June.
CAC has information available on preventing, recognizing and reporting child abuse, as well as other resources. Visit childadvocacyaiken.org for more information.
The DSS asks the public to call 1-888-CARE4US (1-888-227-3487) if they witness an incident or suspect a situation that threatens the safety of a child or vulnerable adult.