A local economic development panel is poised to purchase a landmark chunk of property in Aiken, laying the foundation for multimillion-dollar projects that could revolutionize the city's downtown shopping-and-dining district.
The Aiken Municipal Development Commission, led by Chairman Keith Wood, is prepared to buy seven parcels, totaling $9.5 million: the languished Hotel Aiken and neighboring motel, businesses on Richland Avenue, the former Playoffs Sports Bar, Warneke Cleaners, Newberry Hall and three shops on Laurens Street.
As a whole, the plots are bounded by Richland Avenue to the north, Newberry Street to the east and Laurens Street to the west. The most expensive purchase would be the corner Hotel Aiken property, estimated at $2.3 million; the cheapest would be the strip of stores along Richland Avenue, at $661,000, documents reviewed by the Aiken Standard show.
A vote to move forward with the purchase – and the grander revitalization plans – is expected at 2 p.m. Tuesday at the downtown Municipal Building, 214 Park Ave. S.W.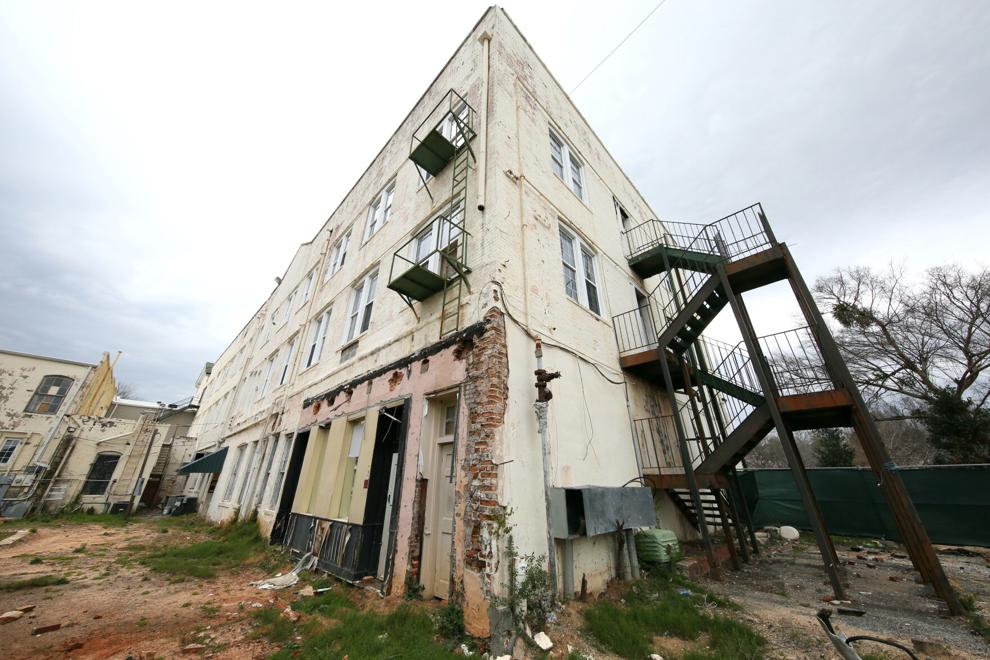 The measure is expected to pass. Wood has said as much. The Aiken City Council in August approved up to $10 million in funding for the Aiken Municipal Development Commission, via bonds, and the panel now has the funding in hand. (Council asked no questions during its first public hearing, and only one Aiken resident objected to the funding during the second.)
A boutique hotel, approximately 100 apartments, a conference center with 25,000 square-feet of event space and full food-and-beverage service, and a parking garage with no fewer than 300 spaces is envisioned for the area, some 2 acres along the city's most high-profile block as well as a portion of Newberry Street.
"The Alley improvements four years ago really have done a lot for downtown. We wanted to be able to extend that and have the ripple effects move out," said Tim O'Briant, the city's economic development director. "It's an attractive area where people want to stay and live, and we need to have that."
The actual arrangement of the projects – where the hotel will go, where the apartments will go, and so on – as of Thursday had not been cemented. Officials have not yet committed to any one developer, architect or rendering for what was once known only as Project Pascalis, a cryptic codename derived from C.O. Pascalis, an engineer who helped design the city's grid of streets and parkways in the early 1800s.
"We all have visions as to what we think," Wood said, "but at the end of the day, a lot of this is in negotiations with developers and architects, which are still ongoing."
The Aiken Standard in April reported Project Pascalis likely involved downtown property, citing public notices and meeting documents. Wood declined to comment at the time. The Aiken Chamber of Commerce intervened in May, documents show, and salvaged contracts critical to the redevelopment effort.
The proposed hotel would be privately financed and operated, an investment of roughly $20 million. The apartments would also be privately financed and operated, an estimated $17 million investment. The conference center would eventually be purchased by the city, at an estimated public tab of $11 million, and operated by what is now Newberry Hall. And the parking garage – the idea has resurfaced – would be purchased and operated by the city, another approximate $8.5 million.
The public contribution to the project, an estimated $25 million, will require no increase to ad valorem taxes, documents show. Money from the city's hospitality tax will be applied. The Aiken Municipal Development Commission has also lobbied for some of the state's $600 million Savannah River Site plutonium settlement.
Much of the area, if not all, will need to be razed to facilitate the master plan, which the commission believes will catalyze development and propel the city into the future. It will be at least a year before construction begins on anything – following design, engineering, permitting and public feedback – meaning businesses will not immediately be shuttered and business owners have some time to plan their next move.
O'Briant promised affected businesses would be offered assistance. They include Ginger Bee Boutique, Vampire Penguin Aiken and Beyond Bijoux on Laurens Street, and Taj Aiken, Security Finance, Nationwide and On Board Realty on Richland Avenue. The motel along Bee Lane closed this week and will not be reopening.
The owners of Newberry Hall in a Wednesday letter to customers said they would be given a minimum of six months to vacate their building and establish a temporary location, once the ball really gets rolling.
"The project is still in the early stages and most likely won't begin until later in 2022, possibly 2023," Patrick and Natalie Carlisle wrote, supportive of the endeavor. "We are not making you aware of this project to cause any sound for alarm."
The work downtown will be monitored by city officials and the Design Review Board, a semi-judicial panel charged with protecting and elevating the city's historic features. The targeted property falls under the Old Aiken Overlay District.
Aiken City Manager Stuart Bedenbaugh described the Design Review Board as "a real hinge for this." O'Briant emphasized its power: "The Design Review Board has their own independent authority. City Council and the commission can't tell them what to do."
The board years ago recommended that the Hotel Aiken, first built some 120 years ago, be added to the Aiken Historic Register. The hotel will need to be excised from the list before it can be disassembled or demolished. The bureaucratic hurdle to do so, though, is not high.
For years Hotel Aiken representatives promised the construction of a chic Courtyard by Marriott, a shining new downtown anchor that would blend the city's old charm with contemporary luxury. That never happened.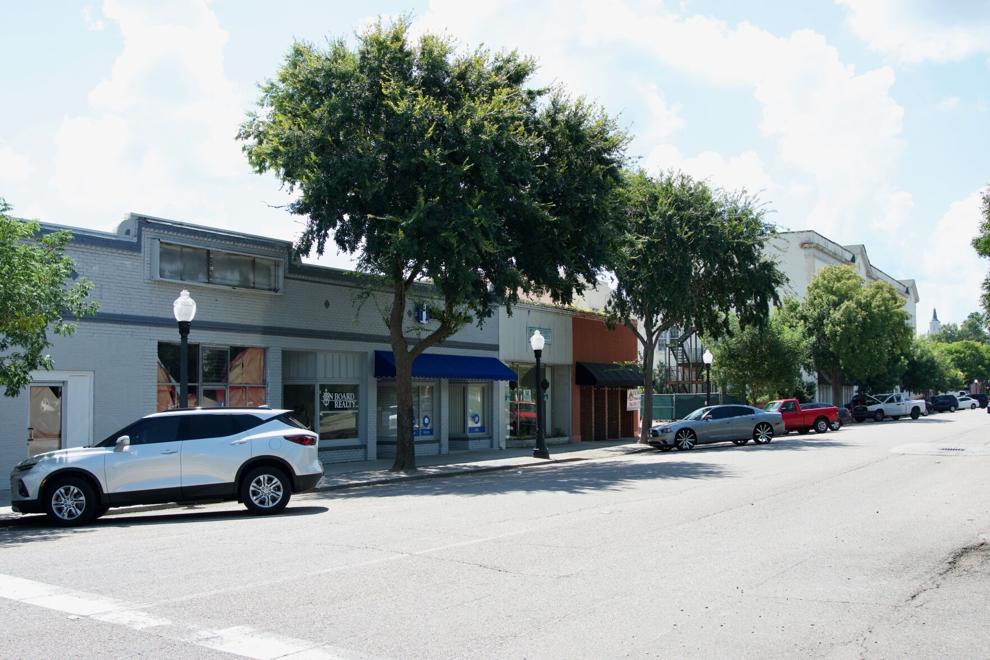 Former Aiken Municipal Development Commission Chairman Tim Dangerfield in August 2020 described conditions at Hotel Aiken as jeopardizing public safety and said the lodging represented "a clear and present danger of irreversible blight."
"The Hotel Aiken property has become essentially abandoned and partially demolished in preparation for an announced but, as yet, much-delayed renovation and reopening under the badge of a nationally-recognized hospitality brand," Dangerfield wrote Aug. 17, 2020.
A request for comment made to Neel Shah, long seen as the hotel renovation point-man, was not immediately returned Thursday. Hotel representatives have pushed back on characterizations like Dangerfield's, and in a lengthy statement around this time last year accused certain players of unfairly harming their business and personal reputations.
Project Pascalis – and everything it is now revealed to be – is not the first time the city has set its sights on a brand-new downtown.
Revitalization efforts arguably date back to 2013. While City Manager John Klimm was in office, there was the Renaissance, which flopped. O'Briant described Project Pascalis and its antecedents as "a long time coming."
City Council stood up the Aiken Municipal Development Commission in 2019 to take "bold action," and that's exactly what it's doing, the development director said. The commission – an adviser with its own powers and responsibilities – also provides City Council some cover, should things go wrong. But officials claim they have done their due diligence, mainly over the past year.
The commission, O'Briant and Aiken Chamber of Commerce President and CEO J. David Jameson "all feel like this is such a valuable piece of property, and such an opportunity for us to transform the city, that we could not pass that up," Wood said. It is not a risk, he further reasoned, but an investment. 
O'Briant is scheduled to speak at the Aiken Chamber of Commerce's Nov. 5 First Friday breakfast.
Holly Kemp contributed to this report.