A little more than one week from an Election Day unlike any other in recent memory, Adair Ford Boroughs, a Democrat challenging a nearly two-decade Republican incumbent, is feeling energized and well prepared.
"I'm ready," Boroughs said Thursday, after an outdoor town hall on Aiken's Northside. Her campaign, she added, has been hearing "great things from the ground."
When Boroughs officially launched her bid for Congress from a Williston football field in July 2019, state Rep. Lonnie Hosey drew a biblical comparison.
"Watch what David did to Goliath. He brought him down," the Barnwell Democrat said at the time. "She's raising money, she's doing all kinds of things that's necessary."
Boroughs has since outraised her competition, U.S. Rep. Joe Wilson, repeatedly.
"It has been a long road. When we launched this thing a year and a half ago, people did not expect the 2nd District in South Carolina to be competitive. Wilson didn't expect the 2nd District of South Carolina to be competitive," Boroughs said Thursday. "And they were wrong."
That sort of fervor is mirrored on the county and state levels. Trav Robertson, the chairman of the S.C. Democratic Party, on Thursday said Boroughs "has given us an opportunity we haven't had in a very, very long time." And that's unseating Wilson.
"Listen, I'm not going to sit here and tell you that it's not an uphill battle. Everything in this state is an uphill battle," Robertson said. "But at the end of the day, she's put together an organization and she's raised the money to give herself a shot."
The independent Cook Political Report has rated the 2nd Congressional District, long a GOP stronghold, as solid Republican. Aiken County Council Chairman Gary Bunker has described the area as "one of the reddest spots in one of the reddest states" in the U.S.
But, Robertson argued Thursday, that doesn't mean change can't happen. Lessie Price, a longtime Aiken City Council member and the S.C. Democratic Party's first vice chair, painted Boroughs as a people's candidate – a shock to the system of weary and unrepresented voters.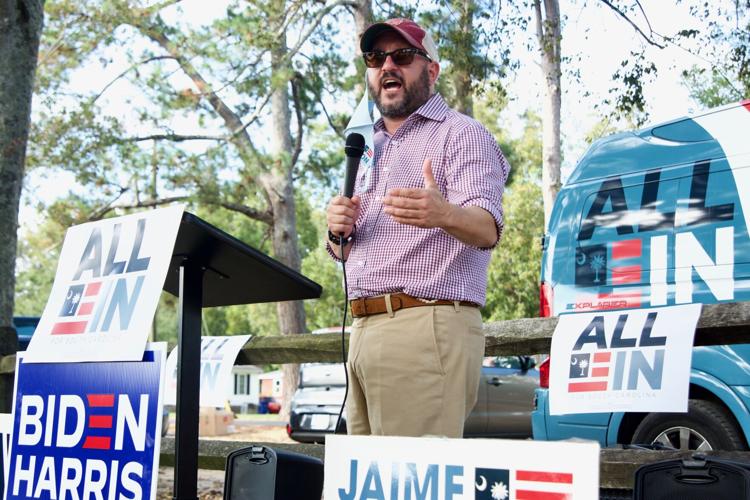 "I want to remind you that they told us that Democrats shouldn't run in Aiken County. They told us that Democrats shouldn't campaign in Aiken County," Robertson said, standing in Perry Memorial Park. "But here we are. Because the people of Aiken County not only know how to think, but they deserve better than what they're getting."
Boroughs in part credits her campaign's progress to tireless toil: "We have worked our butts off," she said, later drawing a connection between her efforts and how hard people work in the district, which spans both urban and rural areas.
The 2nd Congressional District comprises all of Aiken, Barnwell and Lexington counties as well as portions of Orangeburg and Richland counties. The Savannah River Site, the 310-square-mile nuclear reserve near New Ellenton, is also in the district.