The Aiken City Council on May 5 rescinded a citywide coronavirus mask mandate, effectively letting businesses, property owners and individuals decide when and where – or if – masks should be worn.
"If somebody wants to wear a mask, wear a mask. If a business says you have to wear a mask, you have to wear a mask," City Council member Ed Girardeau said during the nighttime meeting. "That's their prerogative. It's their business. Don't push that, let's all get along."
Exactly how small businesses in the downtown area are handling the repeal is a mixed bag. The Aiken Downtown Development Association has been in contact with some of the businesses and has noted places are "moving forward in many different capacities," according to an email sent to members.
"We have some businesses removing all signs and mask requirements. We have some businesses keeping all signs and recommending masks be worn but not required," the Wednesday message reads. "We have some businesses that are keeping with the mask requirements for their businesses. We even have some businesses that will wear or not wear masks based off of what their customers are doing."
At Lionel Smith Ltd. along Laurens Street, employees will wear masks when prompted. The men's clothier won't require customers to wear them, but supports those who do.
A sign taped to the store's door breaks it down: We are "well aware that the mask ordinance was rescinded by Aiken City Council," it explains. "We will wear them if our clients have one on or if anyone is uncomfortable with us not wearing one."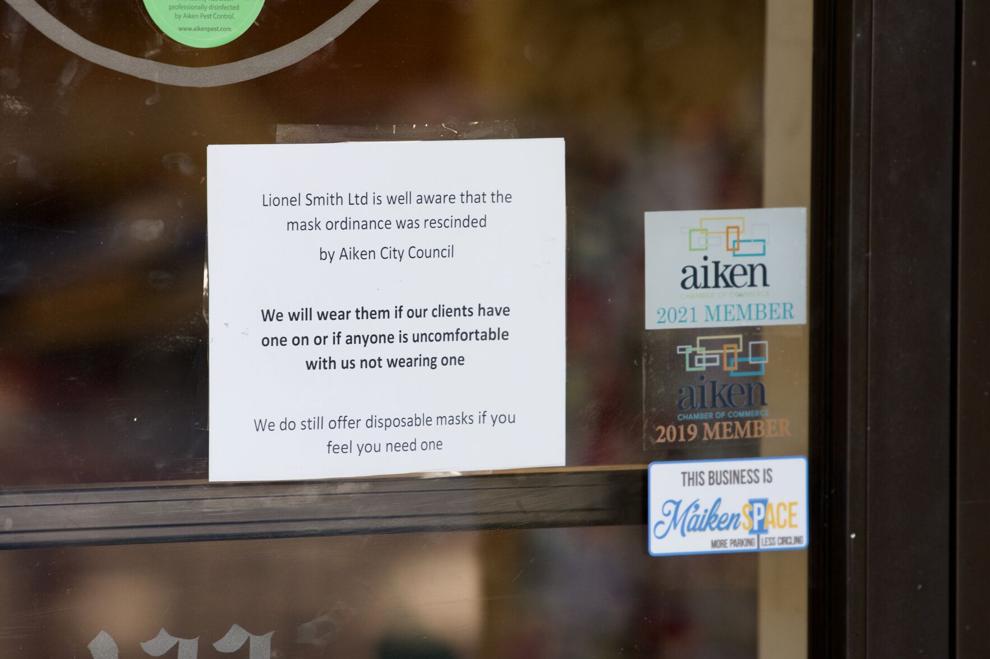 At Downtown Dog, a pet care and supplies store, a protective screen near the register is coming down, as are the mandate-related signs. If customers enter Downtown Dog with masks on, staff will put on masks. If customers come in without masks, staff won't put on masks.
At Newberry Hall, an event-and-catering space, the mask decision is up to the attendee or customer. The Newberry Street business is also deferring to customers when it comes to capacity, according to co-owner Patrick Carlisle. Staff, though, will be masked.
Aiken businesses have strived and struggled amid the coronavirus pandemic. Restaurants reinvented. Stores and retail adapted. And hotels grappled with fluctuations in travel and spending habits.
"You've endured. You've pivoted. You've had, as business owners and managers, you've probably had to think harder and react faster than you've had to in years. Some of you found that exciting, some of you found that tiring," Aiken Chamber of Commerce President and CEO J. David Jameson said Friday at the chamber's monthly breakfast forum. "But the point is, we came out the other end. And we're stronger and probably better for it."
The global health crisis especially hurt the leisure and hospitality industries; unemployment in the supersector approached 30% in June, but has since abated. Several businesses in the greater Aiken area have closed, citing pandemic-related troubles.
Aiken City Council first enacted emergency mask rules in July 2020. A long-term mask mandate – one that did not require occasional renewal by supermajority vote – was enacted in November 2020, before the bustling holiday season.