A new, innovative way to create fuel now has a major base of operations in Aiken County.
Green Energy Biofuel, a home-grown business that collects waste cooking oil and recycles it for biodiesel production, moved its headquarters from Winnsoboro to Warrenville after purchasing a new plant on Main Street in the summer of 2018.
"While we love our Winnsboro roots and will remain active in the community, our Aiken plant has a much larger capacity that can handle our growing customer base and industrial volumes," said CEO and co-owner Joe Renwick in a press release. 
Biodiesel is an environmentally-friendly alternative to petroleum-based fuel. Waste cooking oil and grease are collected from restaurants, recycling plants and industrial food manufacturers, cleaned and processed and then converted into biodiesel.
Green Energy Biofuel (GEB) took off after establishing its base of operations in Winnsboro. They now ship product to be converted into biodiesel to plants across the Southeast and have a fleet of trucks to assist with transport.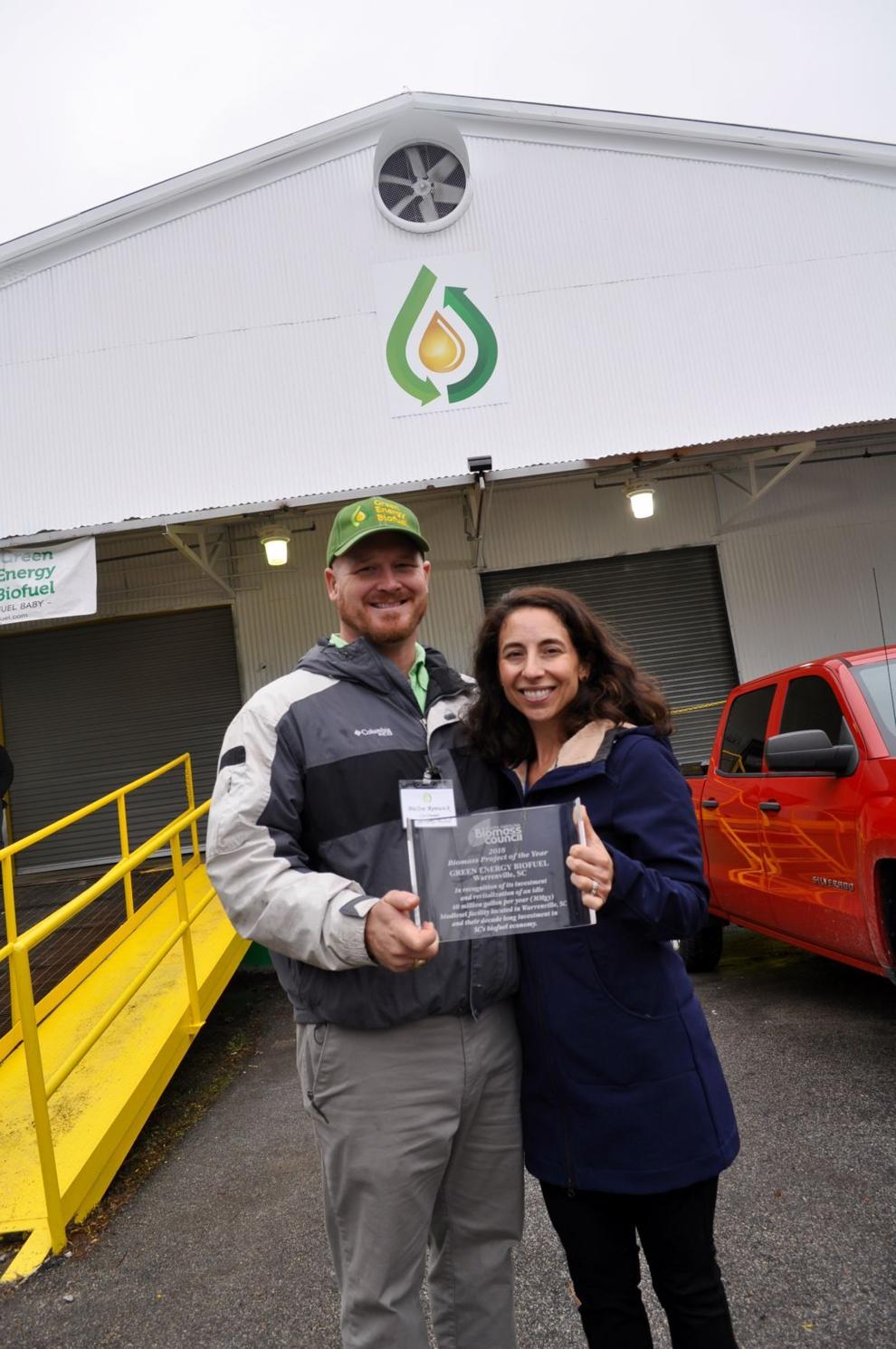 The Aiken County plant, referred to as GEB3, was deemed better suited to accommodate the company's expanding operations and staff. GEB3 is capable of processing 200,000 gallons of product daily – about 20 times more than the Winnsboro plant. 
According to a press release, GEB's customer base and staff are continuing to grow, and the company expects to bring "substantial growth" to Aiken County.
President and CEO of Economic Development Partnership Will Williams said the company's $4.3 million investment into the GEB3 will have a positive impact on the county.
"Property taxes paid are $35,000 annually to be split between Aiken County and Aiken County Schools," Williams said. "The weekly payroll for the 19 employees is $60,000 per month… They plan to increase the number of employees over the 18 months."
Williams also said the company spends $400,000 annually to purchase used cooking oil from local restaurants, which saves the restaurants money and prevents the oil from being dumped into nearby landfills. Operating supplies are also purchased by the company from local businesses.
"GEB will have a positive impact in Aiken County both economically and environmentally," Williams said. "This is one of many examples of why manufacturing is good for our area."
GEB provides summer internships to engineering students at Aiken Technical College and USC Aiken through its Bio4Edu program. 
It took about a year for the Aiken County plant, which had been abandoned for five years, to become fully operational. Last year Aiken County government awarded a $100,000 grant for building improvements to the plant.
The Warrenville plant has produced about 1.4 million gallons of biofuel product to date. Employees of the company have previously stated GEB is a carbon-neutral business, meaning they produce no waste from the grease they take in for recycling into biofuel. 
The company also brought the plant's private rail spur back into operation, and are now able to ship 25,000 gallons on the railroad. Their first railroad load will be shipped out this month.
"We are so happy to make Aiken our new headquarters and our new home," Renwick said in the press release.