Family and friends of a North Augusta teen have started holding search parties in hopes of locating 19-year-old Caden Hinson, who went missing on Friday.
Hinson was reported missing in South Carolina and Georgia on Sunday, but has been missing since he returned from work in North Augusta on Friday afternoon.
Friends and family members said they haven't heard from him; and the unusual, prolonged disappearance is raising concern.
On Sunday, North Augusta Department of Public Safety officers met with one of Hinson's family members, who reported him missing.
The relative told police she hadn't heard from Hinson since Friday when he was leaving work in Augusta, according to an incident report obtained from the North Augusta Department of Public Safety. Another family member that lives with Hinson told police he had not spoken to Hinson since he came back from work Friday afternoon.
Hinson did not show up for work following his disappearance.
Christine Stanford, a close friend of Hinson's mother – who passed away unexpectedly in September, said Hinson was known to take walks to cool down when he was upset, but never disappeared for more than a few hours.
"He'd go to a secluded, wooded area and just hang out there until he calmed down," Stanford said. "We thought maybe he just walked somewhere like that, but he hasn't come back, which is very unlike him."
Hinson did not have his phone or any personal belongings when he disappeared, according to the report. He also does not have a vehicle.
"His phone is still at the house, and he had no money," Stanford said. "I think he had $4 on him or something like that."
Stanford said Hinson is obsessive about staying clean, which makes his disappearance even more concerning.
"There's no way Caden is not going to come home to shower," she said. "He showers at least twice a day. He also doesn't have a change of clothes or anything like that."
Hinson did not get into any arguments prompting the disappearance, according to Stanford – but he was grieving his mother's death as Mother's Day was approaching.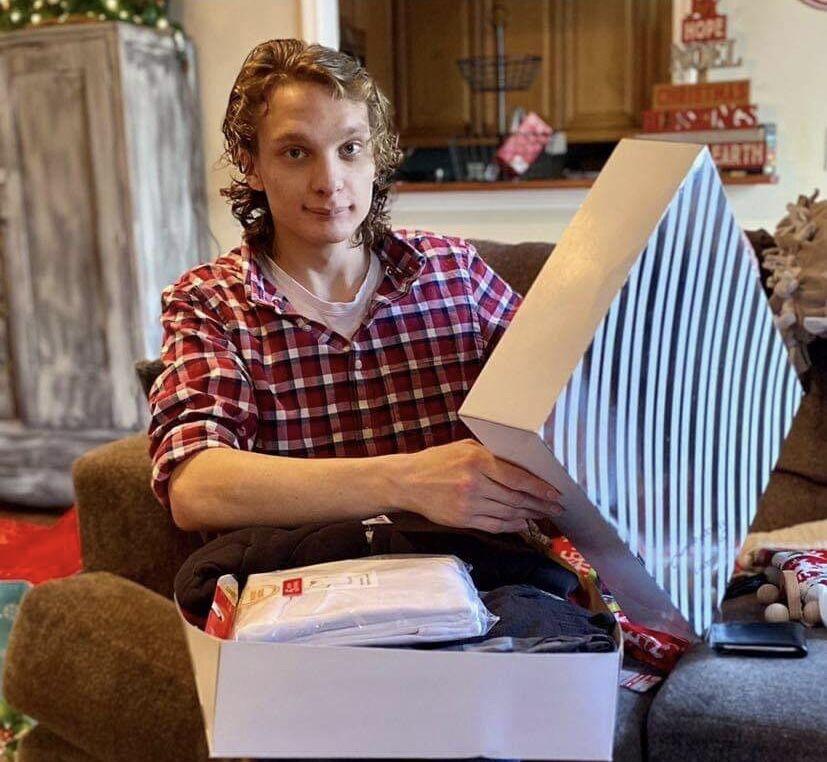 Hinson was diagnosed with bipolar disorder and has a history of self-harm, according to Stanford.
"He was having a much harder time than even I knew over his mother's death, and I thought maybe it could have triggered something again," she said. "When we talked to the police, they asked if we thought he was suicidal or if that was a concern – and it was reiterated multiple times, yes."
Stanford said Hinson keeps to himself and is very shy, which is why it is unlikely he would have befriended a stranger and disappeared.
"If you see him walking at any given time, his head is probably faced downward," she said. "It's hard for him to make eye contact with people. He's very kind, and I know that a lot of people think that with a bipolar diagnosis, that means you're just crazed – but Caden is very soft spoken, he's never one to approach someone and start a conversation or ask for anything."
Family and friends have been searching wooded areas in North Augusta, hoping to find Hinson.
"After I posted it on the NextDoor App and on Facebook, people have reached out telling me they saw someone that fits his description," Stanford said. "None of them have panned out, but we really do appreciate people letting us know because one of us will jump in the car and immediately go to wherever there was a similar description of him."
Hinson has dark blonde hair, green eyes, is 5'10" tall and weighs about 150 pounds.
Stanford said if anyone has seen Hinson or has any information about his disappearance, to contact law enforcement or reach out to her on Facebook.
The North Augusta Department of Public Safety confirmed Hinson has been placed into the National Crime Information Center as a missing person. 
Breaking news. This story will be updated as new information becomes available.