The South Carolina Supreme Court will test out jury trials in three counties next month to develop guidelines for courtrooms across the state in an effort to resume jury trials amid the pandemic. 
Aiken, Horry and Laurens counties have been selected to serve as pilot counties for jury trials in a COVID-19 environment.
Laurens County will be the first to return to jury trials on the week of Aug. 3 followed by Horry County on the week of Aug. 10. 
Aiken County is expected to hold its trial the week of Aug. 24, Second Circuit Solicitor Strom Thurmond Jr. said. 
The U.S. Constitution guarantees a criminal defendant the right to a "speedy trial" by an impartial jury but as positive cases and confirmed deaths due to the coronavirus have continued across the country, the wheels of justice have slowed.
In March, the Supreme Court of South Carolina postponed all jury trials across the state in an effort to limit the spread of COVID-19. 
Similar issues have been seen in courtrooms across the U.S. as confirmed cases of COVID-19 have continued to climb in many states, the Associated Press reports. 
"If you don't have a jury trial system, you don't have an American system of justice, and we're anxious for that to return but we want it to return in a manner that is safe and a manner that is fair," Thurmond said.
Like many courtrooms across the nation, the Second Judicial Circuit – consisting of Aiken, Barnwell and Bamberg counties – has had to get creative in order to continue conducting bond motions and hearings for guilty pleas. 
Court has been held through video conferencing platforms such as Zoom and Webex, which allow parties to maintain social distance, including the defendants participating from the Aiken County detention center.
"Court has still been conducted and we've moved a great number of cases via guilty pleas and if there's been an opportunity for bond motions to be heard," Thurmond said. "Without having the ability to call a case for trial, it has created a backlog of serious cases across the county."
Aiken County's Judicial Center is already preparing for its jury trial by installing plexiglass walls in the courtroom that will separate participants. 
Lawyers, witnesses, defendants and jurors will wear masks, Clerk of Court Bob Harte said. 
Temperatures will be taken as participants enter the courthouse. 
Jurors' experiences will be one of several changes made in an effort to promote safety. 
On Tuesday, the courthouse sent out 200 jury summonses with qualifications and selections depending heavily on a new COVID-19 questionnaire.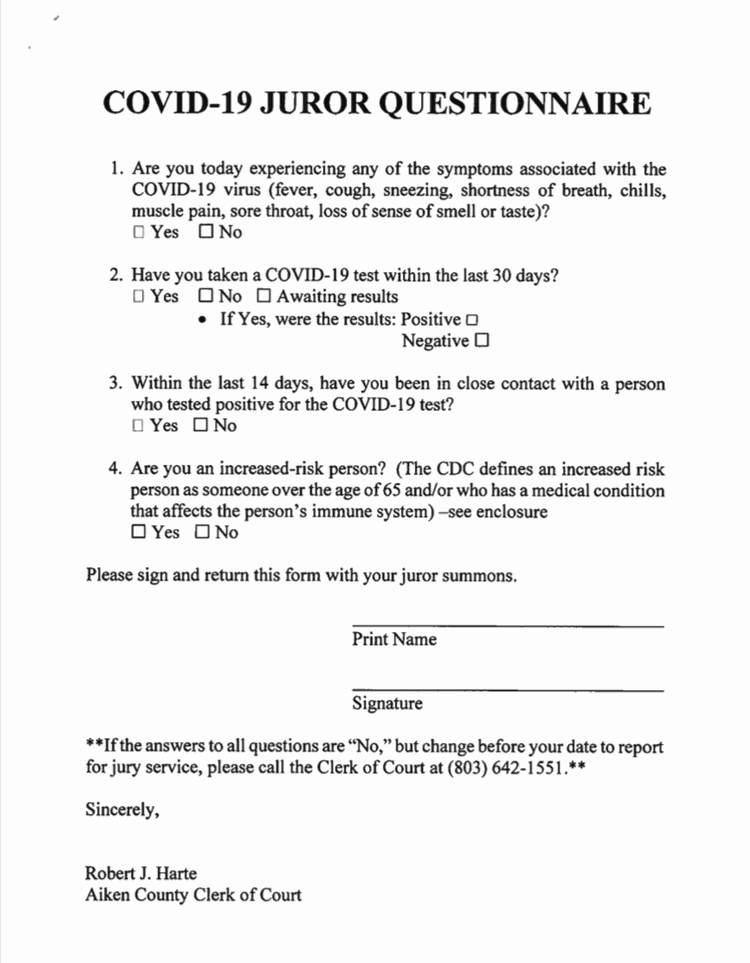 The questionnaire asks if potential jurors have experienced any symptoms related to COVID-19, have taken a COVID-19 test in the last 30 days, have been in close contact with a person who's tested positive or if they are at increased-risk of catching the virus. 
"They're going to stagger their report times for those prospective jurors so they won't have 65 jurors showing up at the same time," Thurmond said. "They'll come in three different shifts."
During trials, jurors won't take their usual seats in the jury box. Instead, they will be asked to sit in the larger public seating area in order to remain socially distant.
The public will not be allowed to attend the trial, Harte said.
Jury rooms will not be used for breaks or deliberation but a much larger room will be used so social distancing can be achieved. 
Despite these efforts, some of the state's defense attorneys feel to return to jury trials is not only unsafe but leaves certain Constitutional rights unprotected. 
In a news release dated July 23, the South Carolina Association of Criminal Defense Lawyers asked the state's Supreme Court to extend the prohibition on criminal jury trials at all levels across the state for an additional 90 days until the risk of hospitalization and death from this pandemic has "substantially" subsided.
The release further states the impact of COVID-19 prohibits a fair cross-section of the community to be available for jury service and creates several other restrictions. 
"In addition to the lack of a constitutional jury panel, a criminal defendant forced to trial would be denied the right to an open and public courtroom, the right to confront an unmasked witness, and the right to unfettered communication with their lawyer in real-time without concern that his lawyer might infect them with COVID-19," Andrew T. Potter, SCACDL president, said in a news release. "These bedrock fair trial rights cannot be compromised away."
The South Carolina Supreme Court hopes to finalize plans based on the outcomes of the pilot jury trials. 
Plans will then be shared with all Clerks of Court for review, consideration and future planning.