The Aiken City Council on Monday preliminarily approved plans for a 60-unit apartment complex along busy Whiskey Road.
The nighttime vote was unanimous, and followed a public hearing and discussion at which few complaints were made. At least one more hearing and vote is needed before things are cemented.
It was City Council's first formal review of The Magnolia, a 3-story mix of one- and two-bedroom apartments on 5 acres north of Stratford Drive and south of Brookhaven Drive. The undeveloped swath is near single-family homes and commercial properties; a project narrative describes the proposed complex as a "nice median," among other things.
"This will be a great way to merge the property types in the perfect location," the narrative continues.
The Magnolia, if and when constructed, will cater to older adults, a key demographic in a city repeatedly ranked as one of the best places to retire. Rents are expected to be in the hundreds of dollars – "affordable" was the term floated.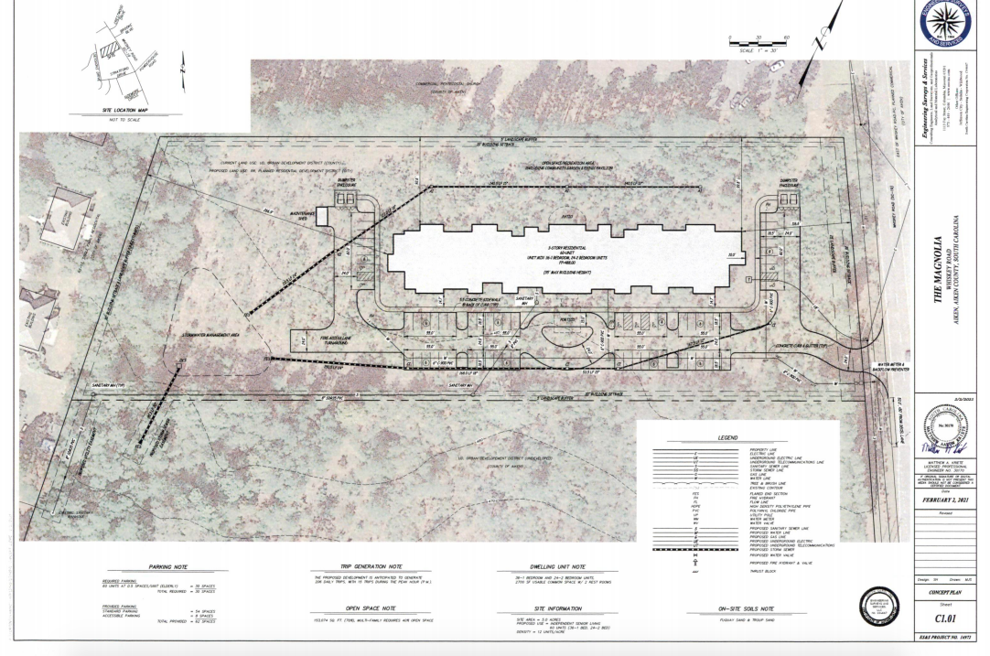 "Again, this would be a senior community for residents age 55 and older, no children will live there," Max Elbe, with Lowcountry Housing Communities, told the Aiken Planning Commission earlier this month. "All residents will be age 55 and older."
The Planning Commission recommended City Council approve the concept plan and related annexation request. Several conditions were appended.
As with many things tied to Whiskey Road, traffic is a general concern.
"The main thing is, as these properties are developed along Whiskey Road, there's going to be issues about ingress and egress on Whiskey Road," Planning Commission Chairman Jack Hunter has said. "The DOT has made that clear."
But a traffic study is not required for The Magnolia, according to City Manager Stuart Bedenbaugh, because the projected number of trips is not enough to trigger such an analysis. Dozens of parking spaces are proposed, documents show.