The National Weather Service in Columbia released an updated forecast Thursday morning for winter weather this weekend.
As a cold front moves through South Carolina, the weather service said temperatures will drop overnight Thursday.
The Aiken County Public School District announced Friday will be an e-learning/remote school day for students due to the possibility of hazardous conditions.
All ACPSD buildings and offices will be closed, no meal services will be provided and all after-school events will be canceled.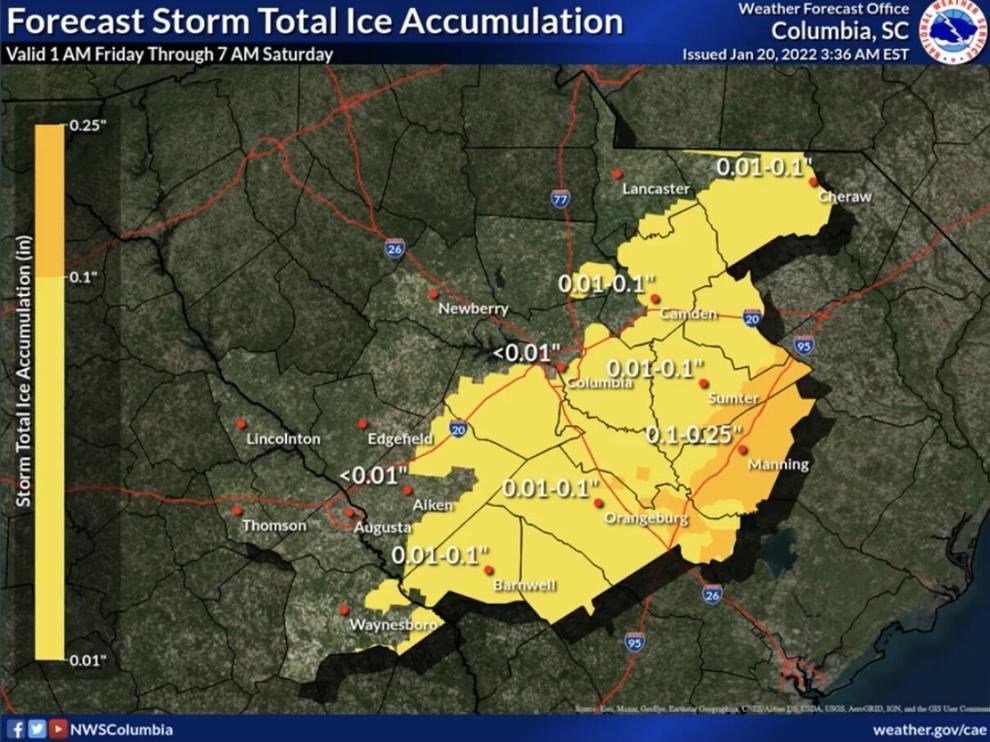 "We could get up to a .1 of an inch [of ice accumulation] in much of the Midlands," said National Weather Service meteorologist Chris Landolfi during a news conference Thursday morning. "This is going to be our main concern because freezing rain typically is more dangerous than snow."
The National Weather Service said it is not expecting much snowfall at this point, but ice is still a major concern.
Aiken County is preparing for potential impacts from any wintry weather, said County Administrator Clay Killian.
"We are going to stay open; and if we have to, we'll clear our roads," Killian said Thursday afternoon. "We did a statewide conference call this morning at 11 o'clock (conducted by the South Carolina Emergency Management Division). Right now, things look like they are going to stay east of us, but there is still a chance we could have some issues."
Killian said, typically, about half the county employees have to work whether the weather is bad or not, including sheriff's deputies, EMS, detention center officers and road clearers.
"We will see what we look like at 4 or 5 in the morning (on Friday), and decide (what needs to be done). …We do our best to stay open. We've got our road crews ready if we need them, and we've got all the equipment fueled up and everything like that. We just hope it doesn't happen," he said. "But if it's ice, there's not a lot we can do with ice."
USC Aiken announced it will remain open Friday, but all classes scheduled for Friday will be delivered virtually.
At this time there is no change for Saturday's events on the campus.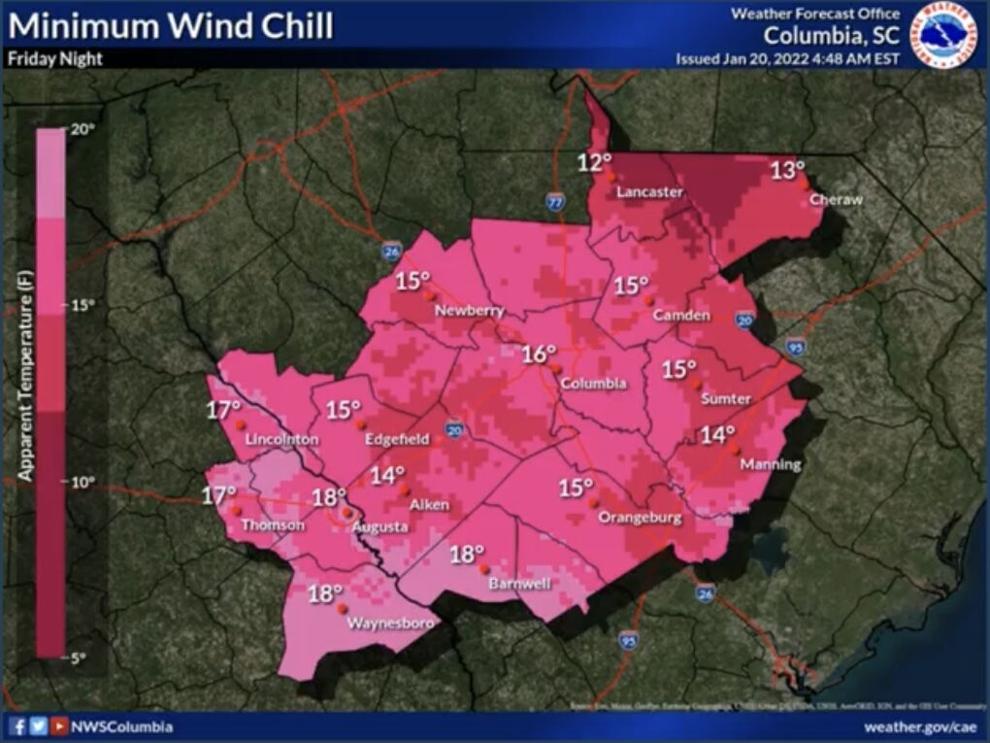 Aiken Technical College is closely monitoring local weather forecasts. The college will continue with normal operations for campus offices and scheduled classes for Friday, but the campus test center will be closed on Saturday, according to a release form Aiken Technical College on Thursday night.
"You're going to potentially deal with slick spots on the roads out there, and while there is a little bit of uncertainty with the potential winter weather tomorrow, there's kind of a lot of moving parts with this forecast," Landolfi said. "What we are fairly confident on is the temperatures are going to plummet behind that cold front Friday night."
The high temperature in Aiken County will sit around 34 degrees Friday, with the low falling to 24 degrees.
The minimum wind chill Friday night will be 14 degrees.
"The problem with this is if we do have any lingering moisture on roads, it is likely to refreeze in spots," Landolfi said. "So, black ice will be possible Friday night into Saturday morning."
The National Weather Service urges people venturing out early Saturday morning to be aware that black ice is possible and to be cautious on roadways.
The University of South Carolina will close campus Friday as the S.C. Midlands braces for possible winter weather, an official confirmed Thursday.
In-person classes will be canceled, but classes that are online-only already may still be held, the spokesman said.
Multiple K-12 schools throughout the S.C. Midlands have also canceled after-school sports and are going online-only on Friday.
Staff writers Landon Stamper and Dede Biles contributed to this report. The Associated Press contributed to this report.