The majority of COVID-19 cases in South Carolina during a month's timespan were among individuals who were not fully vaccinated, according to an analysis by the state's top health agency.
A total of 67,469 virus cases were confirmed from July 16 to Aug. 15 among South Carolinians, according to the S.C. Department of Health and Environmental Control. Among the 21,990 reported cases where vaccine status could be determined, 18,810 of cases, or about 86%, were not fully vaccinated.
Among the 1,088 reported cases of those who were hospitalized with COVID where DHEC could determine vaccine status, 779, or about 72%, were not fully vaccinated.
Among the 384 reported deaths from COVID-19 where vaccine status was able to be determined, 301, or around 78%, were not fully vaccinated.
This follows an analysis that revealed more than 88% of COVID-19 cases, 77% of hospitalizations and 79% of COVID-19 deaths in July were among individuals who were not fully vaccinated.
These statistics come as the spread of COVID-19 has spiked in South Carolina. In the seven days spanning Aug. 27 to Sept. 2, 37,493 total COVID-19 cases were reported across the Palmetto State, with 334 of those residents dying. In Aiken County, during the same span, 1,140 total COVID-19 cases were reported, along with 14 deaths.
As these case numbers have spiked across South Carolina, Aiken Regional Medical Centers has likewise seen an increase in the past few weeks. Since Aug. 3, the hospital has confirmed 30 COVID-19-related deaths and 243 COVID-19 cases.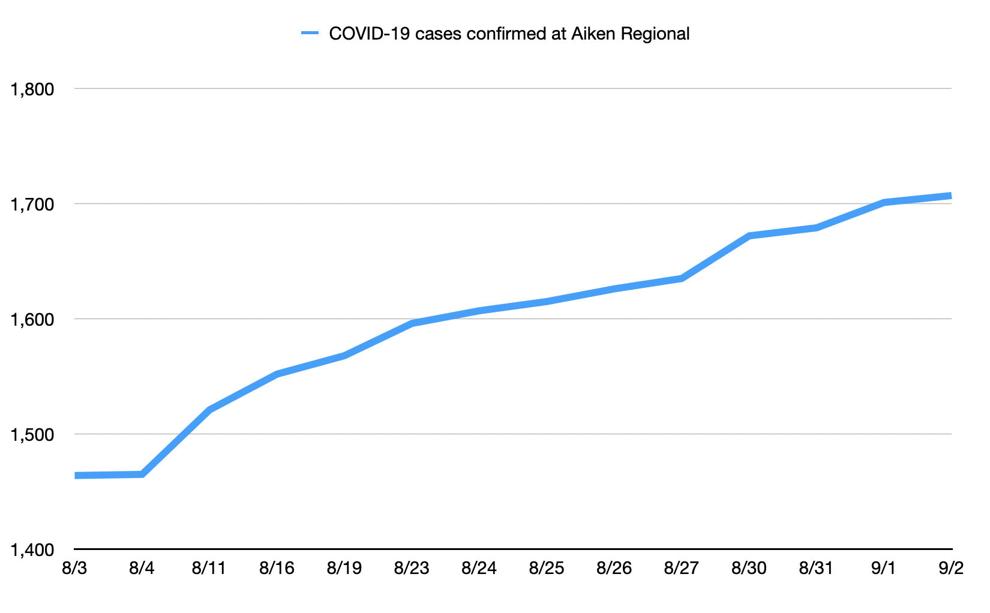 As of Sept. 2, there are 43 COVID-19 patients at Aiken Regional, with eight of those patients in the ICU. The vast majority of these patients are unvaccinated.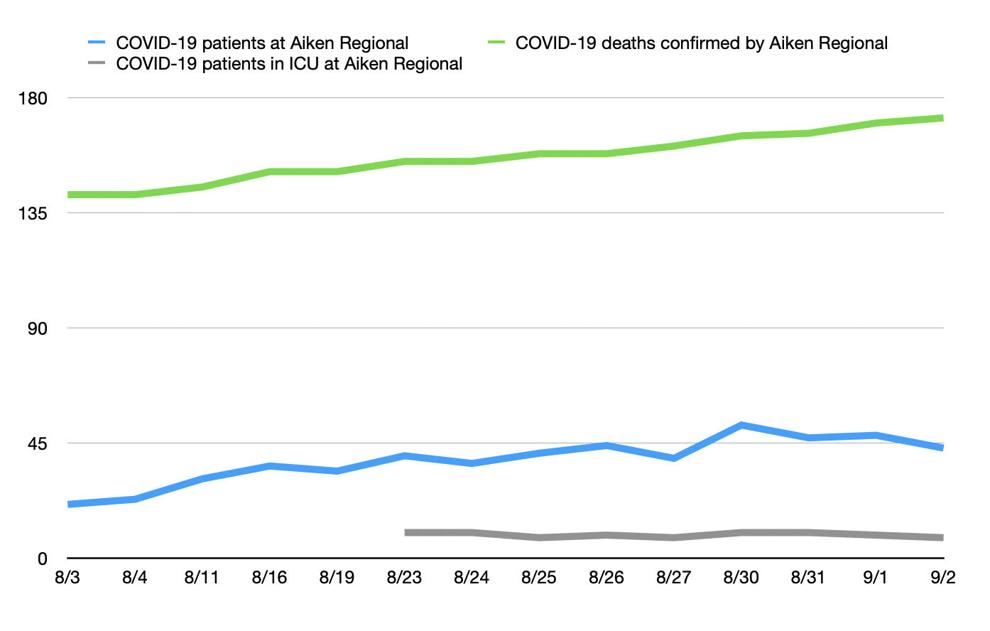 DHEC has continued to encourage all eligible residents to get vaccinated. As of Sept. 2, almost 57% of eligible South Carolinians have received at least one dose of the COVID-19 vaccine while 48% are fully vaccinated. Aiken County's numbers are a bit lower, with 50% of eligible county residents receiving at least one dose of the vaccine and almost 42% being fully vaccinated.
An individual is considered fully vaccinated 14 days or more after completing their second dose of Pfizer or Moderna or their single dose of the Janssen vaccine. Those aged 12 or older are eligible to receive the Pfizer vaccine, while the Moderna and Janssen vaccines have been approved for those aged 18 or older.
DHEC said it is important to note that breakthrough cases are expected with any type of vaccine. While vaccines can prevent catching a virus, the main goal of inoculation is preventing severe illness if the virus is contracted.
These breakthrough cases have accounted for a minuscule amount of COVID-19 deaths and hospitalizations, with 0.0257% of fully vaccinated people being hospitalized and/or dead due to COVID-19.
Residents who wish to schedule a COVID-19 vaccine appointment can visit vaxlocator.dhec.sc.gov to find a location near them.
Rural Health Services is offering Pfizer vaccine clinics on weekdays during September. On Wednesdays, the clinics will be at the Margaret J. Weston Community Health Center, located at 4645 Augusta Road in Beech Island. from 9 a.m. to 4 p.m. On Thursdays, the clinics will be held at the Clyburn Center for Primary Care, at 1000 Clyburn Place in Aiken, from 9 a.m. to 4 p.m. Friday's clinics will be held at Family Health Care-Podiatry, located at 4200 Whiskey Road in Aiken, from 9 a.m. to 4 p.m.
There will also be a clinic held Saturday, Sept. 25, at the Clyburn Center from 9 a.m. to 2 p.m.