A reformed ex-con's time with his son is cut short by gun violence
Keith Smalls feels partly responsible for the struggles young black men face in the community today. He suspects his generation laid the framework.
Smalls sold drugs in his neighborhood in the 1990s. His little league baseball coach became one of his customers. The man ended up a crack addict.
"I took him out of the community," Smalls said. "That's direct. I'm accountable for that."
Drug trafficking caught up with Smalls in his 20s. A three-year prison stint didn't faze him. He got in trouble again. That time, he pulled a 15-year stretch. He missed watching his kids grow up.
When his son, Amarai Roper-Smalls, visited him in prison for the first time, the toddler kept pinching and poking Smalls' face. The boy wanted to make sure his dad was real. Smalls resolved to be a better father when he got out.
Smalls left prison in October 2015. He moved in with his mother and Amarai in the Dorchester Terrace neighborhood. Amarai, then a teen, clung close to his dad, parroting his every move. The family would catch Amarai wearing Smalls' clothes, which hung too large on his slim frame.
"He would just be watching. He tried to pay attention to how I walked and how I talked."
The father and son had one year together.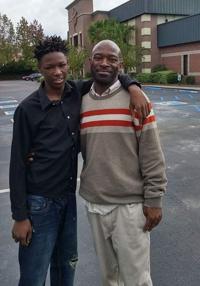 One night last October, Amarai went across Dorchester Road to hang out in the Waylyn where his girlfriend lived. Something sparked a fight between Amarai and another teen. A gun came out. Shots sounded, and three bullets found their mark.
Amarai fell to the ground and died between two homes.
He was 17.
Tears slide down Smalls' cheeks when he talks about his son's death. He pauses, holding his face in his hands.
"It never gets normal."
Trim and bald at 44, Smalls works construction and studies business at Trident Technical College. His motto: "Do better. Be better." He's trying to achieve that for his three teenage daughters. The four of them cruise around town on weekends and go out to eat, their outings often simple but meaningful.
Smalls wishes his son could be a part of the family they're building.
Amarai deserved to know all about his father, Smalls said, the good and the bad. He had so much more to share with him.
One morning in July, children as young as 5 arrived at summer camp and found their path blocked by a string of yellow tape and police cruisers.
Reach Angie Jackson at 843-937-5705. Follow her on Twitter at @angiejackson23.